Our apologies as we are not currently accepting new patients
White Pines Naturopathic Clinic
Dr. Melissa Howe BScN., R.N.(inactive), N.D.
246 Concession 5 East
Waterdown, ON
L8B 1K5
Canada
Please note that due to COVID-19 Naturopathic Consultations are available virtually, via Telemedicine or Web-medicine.

In-person, hands-on treatments are also available!

OPENING HOURS:

Tuesday

9:30am-6:00pm,

Wednesday

2:00pm-5:00pm,

Thursday

9:30pm-6:00pm,

Friday

10:00am-4:00pm. Closed Saturday-Monday. There is some flexibility with the opening and closing times if needed.  

You must be an Ontario resident to receive Naturopathic care from Dr. Melissa Howe, ND. 
Book a complimentary 20 minute phone or video consultation to determine how I can best support you, or book your follow-up visits here!  
If you are a patient, order and receive your top quality supplements by mail through Fullscript's secure and convenient shopping.
Directions
White Pines Naturopathic Clinic is located at 246 Concession 5 East, Waterdown, ON L8B 1K5. It is on the South side, between Hwy 6 and Centre Road. It is in a log cabin and there is a sign by the road that says White Pines Naturopathic Clinic.
Out here, your GPS or Google Maps may lead you astray, so please read below to get your bearings!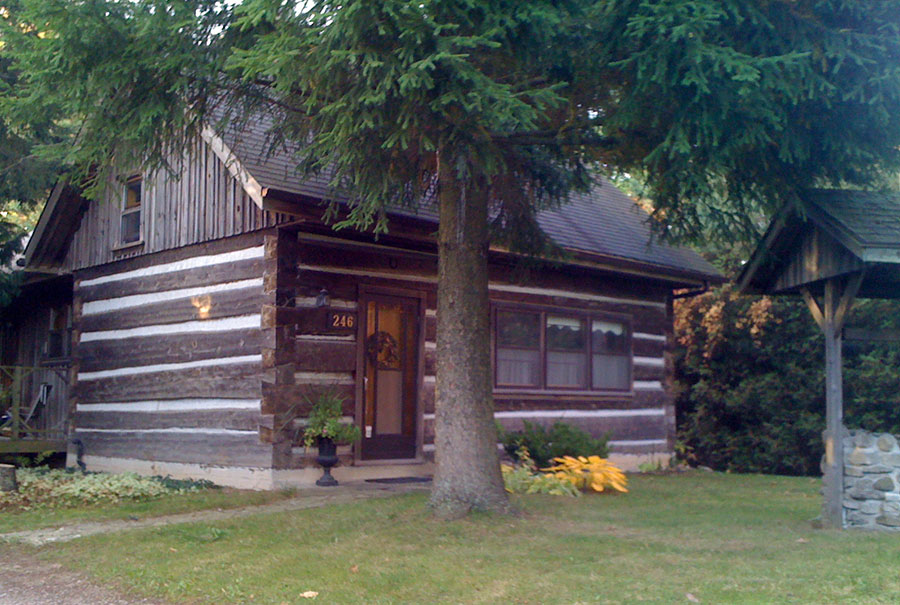 Coming  from North Burlington, travel West on Highway 5/Dundas to Avonsyde Boulevard. Turn right/north onto Avonsyde Boulevard (there is a set of lights there). Follow this road as it curves 90 degrees to the left and becomes Parkside Drive. Then, turn right (north) onto Robson Road. At the stop sign turn left (west) onto Concession 5 East. Travel over the train tracks through one set of lights and the clinic will be the fifth house on the left (south) past the lights at 246 Concession 5 East. (approx. time 10-15 minutes)
Coming from South Burlington, travel north to the QEW/403 and then take the 403 towards Hamilton. Take the Waterdown Road exit and turn right/north at the exit lights. Continue north on Waterdown Road until the very end of the road. It ends at Parkside. Turn left/west onto Parkside. Turn right/north at Hamilton St. aka Centre Rd. Continue north on Hamilton St. (it changes to Centre Road as you go north). Then, turn left/west at the first set of lights which is Concession 5 East. The clinic is the fifth house along on your left/south at 246 Concession 5 E. (approx. time 20 minutes)
Coming from Cambridge or Guelph Area, take Hwy 6 south. Then turn left/east onto Concession 5 East (at the large Terra greenhouses). The address is 246 Concession 5 East, and it is on your right/south side before you come to the lights at Centre Road. (approx. time 25 minutes)
Coming from Carlisle, take Centre Road south and turn right onto Concession 5 East. The clinic is the fifth house along on your left/South at 246 Concession 5 E.  (approx. time 8 minutes)
Coming from Dundas, take Sydenham North to Hwy 5. Turn right/east onto Hwy 5. Turn left/north onto Hwy 6. Turn right/east onto Concession 5 East (at the large Terra greenhouses). The address is 246 Concession 5 East, and it is on your right/south side before you come to the lights at Centre Road. (approx. time 15 minutes)
Coming from Hamilton, Brantford along the 403, take highway 6 north. Continue north on Highway 6 past Highway 5/Dundas and Parkside. Turn right/east onto Concession 5 East (there is a large Terra Greenhouses on the corner). The clinic is at 246 Concession 5 East, and it is on your right/south side before you come to the lights at Centre Road. (approx. time 15 – 45 minutes)
Coming from Oakville, Mississauga, Toronto take the QEW/403 West. When the two highways split, take the 403 towards Hamilton. Exit at take highway 6 north. Continue north on Highway 6 past Highway 5/Dundas and Parkside. Turn right/east onto Concession 5 East (there is a large Terra Greenhouses on the corner). The clinic is at 246 Concession 5 East, and it is on your right/south side before you come to the lights at Centre Road. (approx. time 30 -60 minutes)
Coming from Waterdown, from Dundas/Hwy 5 and Hamilton St. intersection, take Hamilton St. north as it turns into Centre Rd. Turn left onto Concession 5 East (heading west). The clinic is the fifth house along on your left/south. (approx. time 3 minutes)